TagSpaces is privacy aware, open source, cross-platform file browser.
It helps organizing your files and folders with tags and colors.
free downloads available for Windows, macOS, Linux and Android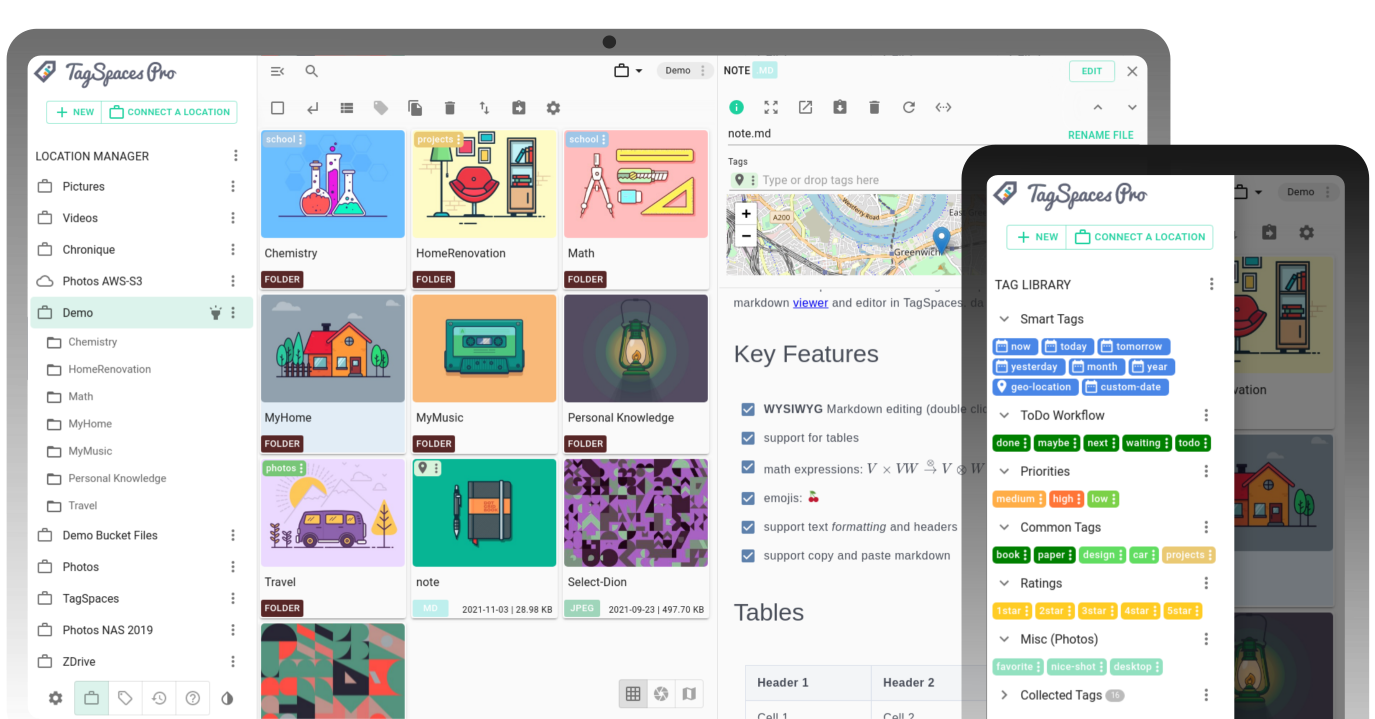 No Login ➜ No Backend ➜ No tracking
Privacy by design
Keep full control of your data! Since the app does not needs Internet or online registration to run, your files never leaves your computer and you can access them anytime. Our apps do not collect any user data or track the user's behaviour.
Open and Extensible
The core of TagSpaces is open source and published under the AGPL license. The application is designed to be extendible with plugins e.g. for visualization directory structures or for previewing different file types. Almost all plugins are published under the MIT license.
Intuitive and easy to use
TagSpaces offers you a convenient user interface to your local files and folders on Windows, macOS, Linux and Android. It is implemented using modern web technologies like JavaScript, React and HTML5.
Just files - No vendor locking
TagSpaces uses only human-readable text files to persist all the meta information such as tags, descriptions and colors. Since we do have a database or a software back-end, there is no vendor locking and you can easily access your information even without our app.
Local-first, offline-first
Our desktop application is running completely offline on your computer or smartphone and does not require Internet connection. It is up to you to decide if and with which tools (e.g. Nextcloud, Dropbox, Syncthing) you can sync your annotated files across different computers.
Key Features
  Easy File & Folder Tagging
The application supports adding tags with drag and drop to files and folders, in a transparent, not vendor locking way.
Learn more about working with tags
  Tag Library with Colored Tags
You can organize your tags thematically in groups, for example the tag group "family" can contain tags with the names of your family member, useful for photo tagging. In addition you can assign different color to your tags.
Learn more about the tag library
  Desktop Search
The application support searching for files in your current location. It can be searched explicitly for a given tag or a combination of tags (all tags, any of the tags or excluding a specific tag).
Learn more about searching
  User Interface Themes
Currently TagSpaces supports a light and a dark theme, which can be switched with one click.
Learn more about dark mode
  File and Folder Management
TagSpaces features a set of basic file and folder management operations such as create, rename, move and delete.
Learn more about file management
  Go further with extensions
The application can be extended with additional viewers and editors for different file types and perspectives for visualizing of folder structures.
Learn more about extensions
Pricing
Lite
For personal use
to organize everything
Pro
For power users
who want to do even more
Pro Web
 BETA
For small teams
who want to work together in one place
Enterprise
For small and medium organizations, offering customizable web interface
What people are saying
Help us change the way the world is organizing files. Spread the word!