TagSpaces Pro
TagSpaces Pro is a desktop application based on the Lite Edition with many useful features added on top. You can start directly using the PRO version. Pre-experience with TagSpaces or installation of the Lite version are not required. A detailed overview of these features can be found in following page.
See your files from different perspectives#
Folders usually hosts files grouped by different purpose (e.g. photos from an event or for a specific project). For such cases we offer the so-called perspectives, allowing you to set a custom view for different kind of tasks you want to perform with your files.
More on perspectives in the docs
Add description to every file or folder#
In the addition to the tagging, here you can put a text description to any file or folder.
The text of the description can be in Markdown format, so you can have basic text formatting like paragraphs, texts in bold/italic or bullet points.
Add custom background color to folders in order to visually group them
More on annotations in the docs
Advanced Search & Persisted Search Queries#
The Pro version offers extended search features supporting many custom options.
Global search - in all locations at once, regardless if they are local or in the Cloud
Search by type (Images, Documents, Videos, ...)
Search by last modified date (today, last month, last year, ..)
Search by file size (empty, small, large, ...)
Search for untagged files or folders
Search for folders
Full-text search for text, Markdown and HTML files
Save common search queries for later use
More on search in the docs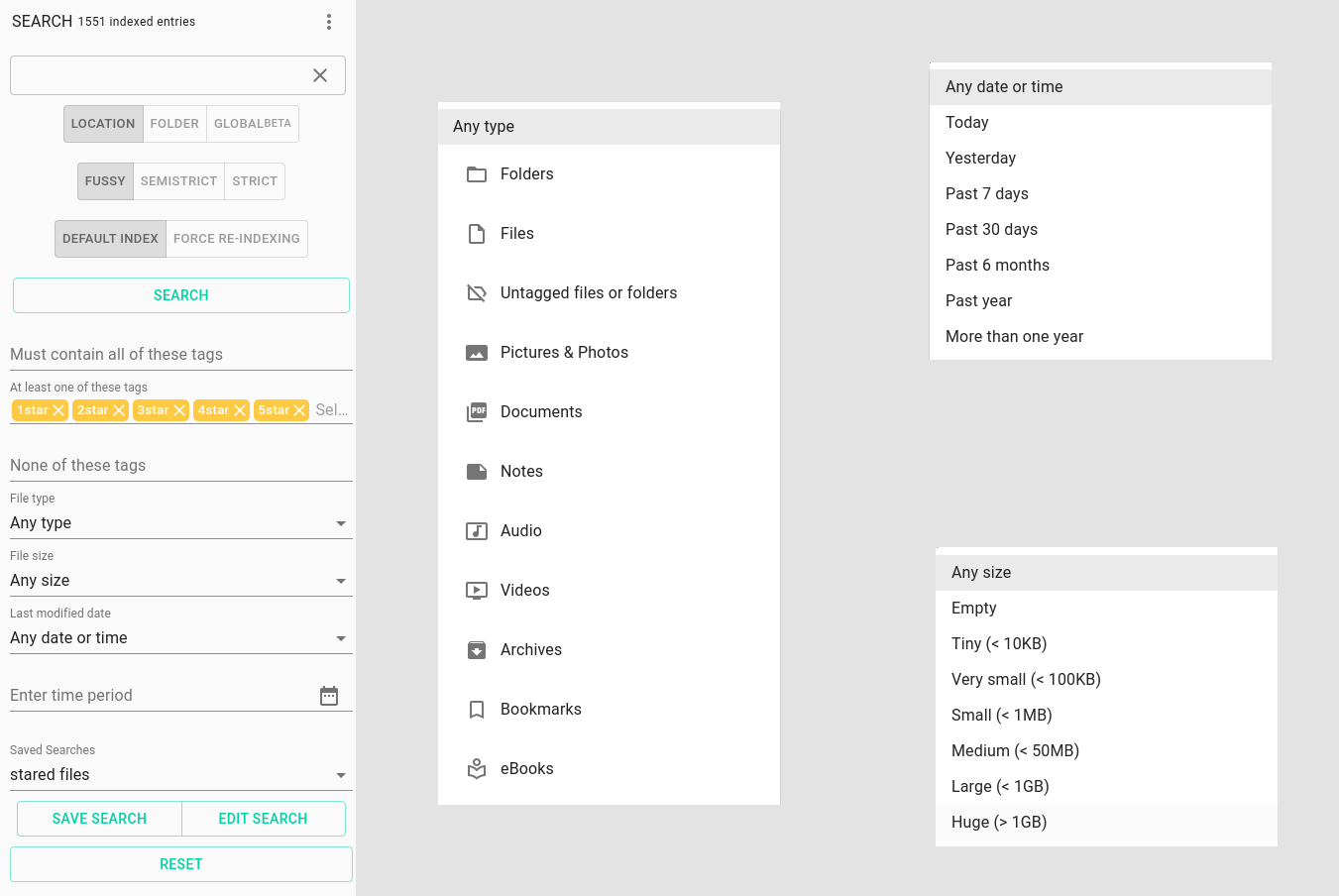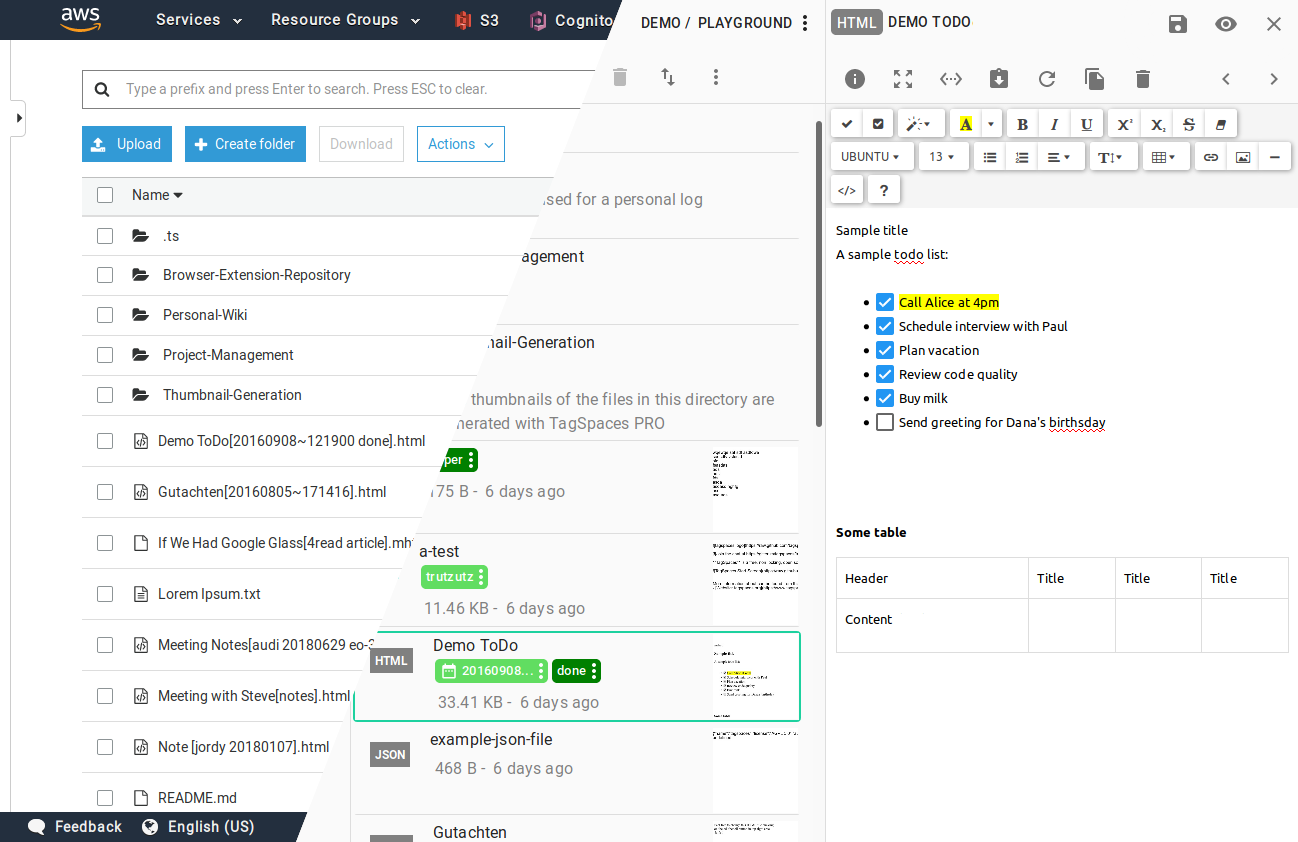 Connect object storage from the Cloud as locations#
In order to simplify the collaboration with other users, you can have your files in the so-called object storage buckets from different cloud providers or on your NAS system
Connect AWS S3 buckets as locations
Connect self-hosted (e.g. on your NAS) MinIO folders as locations
Browse object storage buckets in TagSpaces
Preview files from buckets without downloading
Direct streaming of the supported audio and video formats
Edit text files directly in the buckets
Upload files with simple drag and drop actions
More on this topic in the docs
Share files with links#
You can share files in two ways:
By providing a link for internal sharing
Sharing for downloading, available only on S3 locations
Learn more about sharing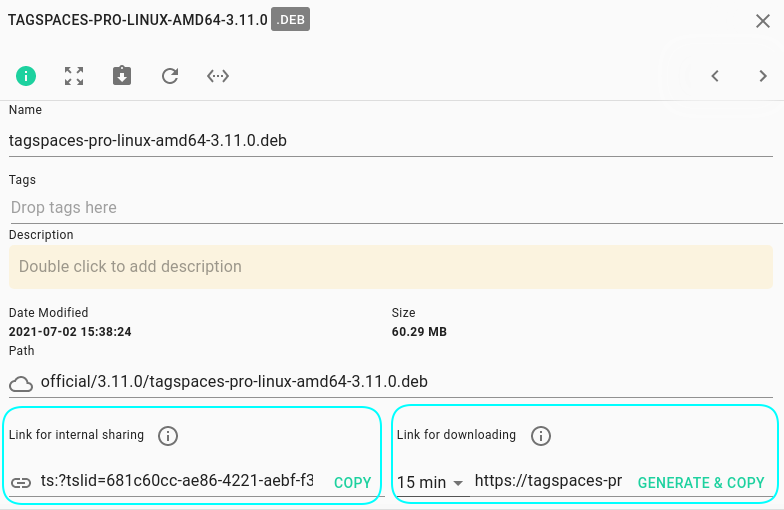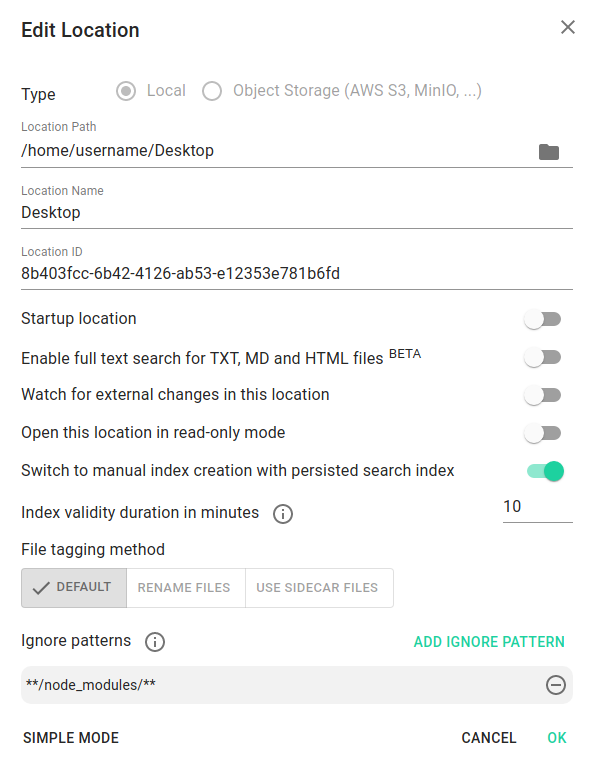 Advanced Location Options#
Monitor the changes in locations
Persisted manual index
Custom location IDs for easy files sharing
Read-only mode for locations
Collect all used tags used in given location
Specify file tagging method per location
Exclude folders from search results by using ignore lists
Find details in the docs
Advanced Tagging Features#
Tagging with geo coordinates
Place files and folders on a map
Plan and document your trips
Tagging with custom date and time. Learn more in the docs
More on the geo tagging use case
Custom thumbnails for folders & files#
Some times a picture is worth a thousand words, so we added the possibility to set a custom preview image for every folder, which describes best its content.
Set a preview image of every folder
Set a custom thumbnail to any file, ignoring the automatically extracted preview image
Navigate with ease through folders and folders by recognizing their content
More on thumbnails in the docs
Extract thumbnails#
In addition to the file previews (thumbnails) for images and videos available in the Lite version, the PRO version supports thumbnail extraction for:
PDF documents
Office documents in ODT, ODP, ODS, DOCX, XLSX, PPTX format (uses the embedded preview image if available)
Notes in HTML format (uses the embedded screenshot, when created with the Web Clipper
Bookmarks in URL format (uses the embedded screenshot, when created with the Web Clipper
Ebooks in EPUB format (uses the integrated ebook cover image)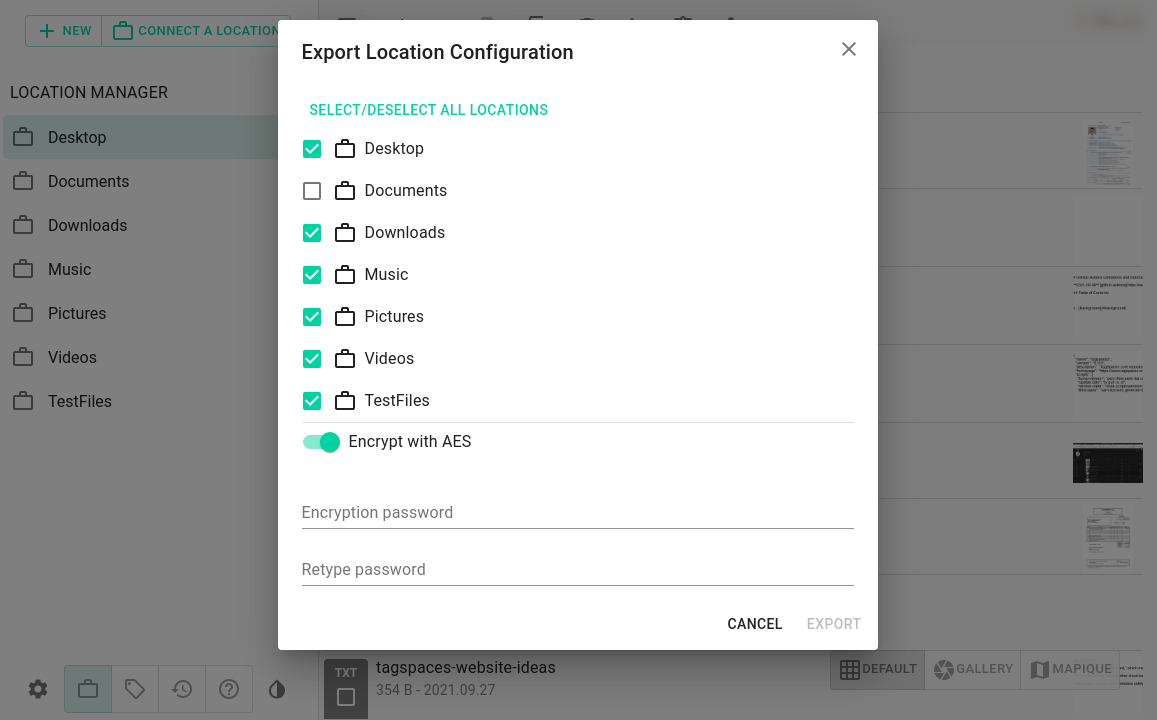 Backup locations and stored searches#
In the Lite version users can export their tag library as simple json file, so they can import it in another TagSpaces installation or simply to backup it. Here you can get in addition:
Export of your locations as single file
Encrypt your location export with password so valuable location access information is not readable
Import your locations
Export your stored searches as single file
Import your stored searches
Technical support
For our TagSpaces PRO users, we offer a technical support per email.