Web Clipper - Collect everything online
In order to provide an easy way to collect content from the Internet such as web pages, articles, PDF-documents, bookmarks, places and screenshots, we have created this extension for the Firefox and Chrome browsers.
Save web pages, bookmarks, screenshots, PDFs
Save an interesting content found online as file on your computer.
Save whole web pages in MHTML or HTML formats
Save parts of web page
Take a screenshot of the visible part of the web page
Save bookmark with an integrated screenshot of the page
Save currently opened PDF-document
Add directly tags to saved content, searchable later in TagSpaces
Read more in the docs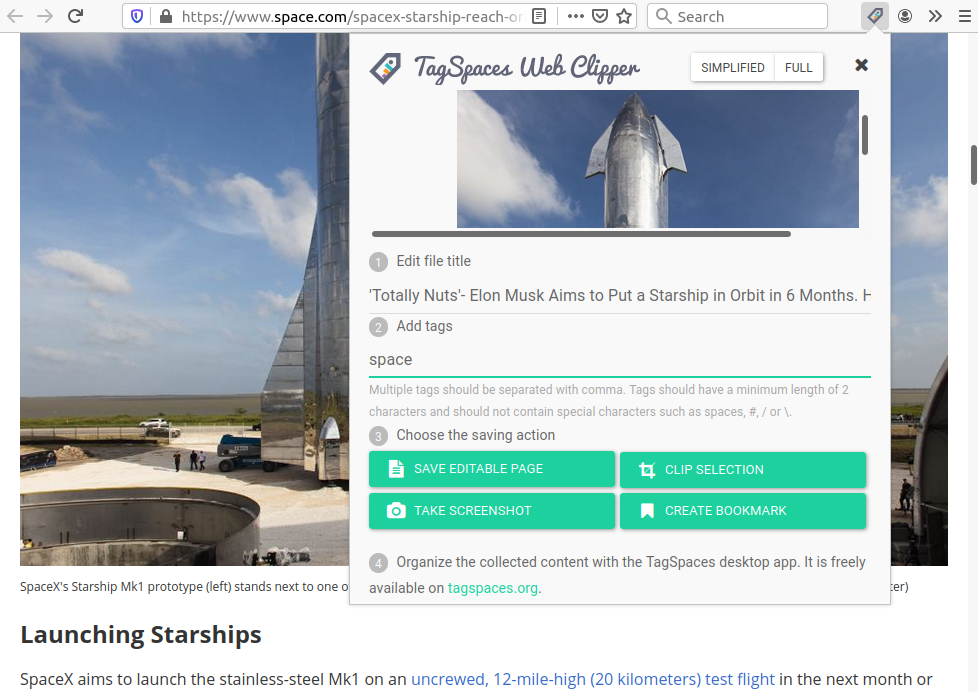 Read It Later
Saving the whole web pages is much better than just bookmarking it.
Reading the content in the form it, was persisted and not a potentially changed version
No more bookmarks leading to dead links
Access the content even if you are currently offline
More about bookmarking in TagSpaces
Advanced Features
The date and time of the clipping, the original internet address of the web page and a screenshot of it is saved in the created HTML and bookmark files.
The saved screenshot is used later by the desktop application as thumbnail.
By saving web pages showing online map services such as OpenStreetMap or Google MapsTM the current geo coordinates are extracted and saved as tags.
By saving a screenshot from the current web page, the domain of this web page is added as tag next to the current date and time and the tag screenshot.
The automatically extracted tags are making the finding of this content later in TagSpaces very easy.
Read more in the docs
The browser extensions are a useful addition to the desktop applications of TagSpaces, allowing a seamless way to collect and organize locally content from the web. Nevertheless, the basic functionalities of the web clipper are completely decoupled from the desktop application of TagSpaces and so they can be used with other applications supporting HTML, MHTML, PNG, PDF or URL files.