Get started for free!
Not sure which one to choose?
Compare our products.
Pricing & Licensing FAQs
What's the difference between a one time license and a subscription license?
A perpetual or one time license is a traditional way of purchasing software, meaning you pay for the license upfront so you have the right to use the software in perpetuity. With a subscription license, a customer prepays a user fee, entitling them to use the software only during the subscription term. We added a subscription option because it has become a common software licensing model, benefitting both the customer and the vendor. Another consideration is that a subscription license entitles the user to the latest version of the software plus applicable updates as long as the subscription is active, whereas the lifecycle of a product with a perpetual license will reach an end of life – meaning software updates and support will stop after a certain point.
What are the license terms?
A separate license is needed for each individual user who is using the TagSpaces Pro, Pro Web or Enterprise versions. Exception is made for your family members in the same household, who can use your copy of the application for non-commercial purposes.
By using our paid software products you agree with our
End-User License Agreement
.
Further information can be found in our
subscription and cancellation terms
.
What happens after successful payment?
You will receive an email, with links for downloading the corresponding packages.
For TagSpaces Pro:
TagSpaces Pro 64bit for Windows (installer)
TagSpaces Pro 64bit for Windows (zip)
TagSpaces Pro 64bit for Mac Intel (dmg installer)
TagSpaces Pro 64bit for Mac Intel (zip)
TagSpaces Pro 64bit for Mac ARM (dmg installer)
TagSpaces Pro 64bit for Mac ARM (zip)
TagSpaces Pro 64bit for Debian/Ubuntu (deb installer)
TagSpaces Pro 64bit for Linux (AppImage)
TagSpaces Pro 64bit for Linux (tar.gz)
For TagSpaces Pro Web:
What should I do, if I have lost the email with the download links?
In order to manage your orders, please visit 
this website
  and enter your email address. You should receive an email with a link, where you can see all your order and download links. If you don't received any email after this action, please check your spam folder or contact us directly via
email
.
What payment methods do you offer?
Our payment provider 
FastSpring
  offers many payment methods such as credit cards (Visa, American Express, MasterCard, JCB) and Paypal.
What's your refund policy?
At TagSpaces, we want to ensure that you are 100% happy with your purchase. If you have any technical or sales question, do not hesitate to contact us. However, if you feel the product you purchased is not the best fit for your requirements and you attempted to resolve issues with our support staff, we want to make things right.
Please contact us per 
email
  for a full refund within
14 days of the purchase date
. We'd love to know where things went wrong, or how we can improve. Please include your order number, so we can issue the refund as soon as possible.
What are the system requirements for TagSpaces Pro?
How do I know, when a new version is available?
On every start, the application will check automatically if a new version is available (this check can be disabled in the settings). In case there is an update, a message similar to the following screenshot will appear in the bottom right corner of the app. Clicking on the 'Get now' button will open a link in your default web browser from where you can download the newest version.

Do you offer discounts for students or academic use?
Yes, students and academic institutions get 30% discount on subscriptions. Just
send us
a copy of your student ID or contact us from your university email and we will provide you a discount code.
You want to buy more than one license at once?
Please click on the shopping cart button located at the top left corner of the checkout form. There you can adjust the number of licenses you want to purchase.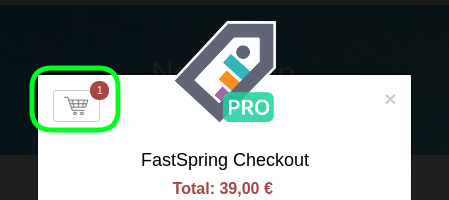 Where can I suggest new features for the products?
You can always send us an email describing your suggestion, but also feel free to share and discuss your ideas and feature request in our 
forum.
How do I make a complaint?
If you have a complaint, please call our customer services number on +49 89 41156911 (Monday-Friday 8am-5pm CET excluding Bank Holidays), or email
contactus@tagspaces.org
and we will get back to you as soon as possible to resolve the issue.
Please see below a link to the European Commission's Online Dispute Resolution Platform
https://ec.europa.eu/consumers/odr/