TagSpaces Enterprise
TagSpaces Enterprise is another product from the TagSpaces palette, which is focused on large enterprise or academic deployments. It combines all the features offered by the Lite and Pro editions, with a web interface. The enterprise version can be hosted internally in your company or in the Cloud. A enterprise package is offered also as a desktop app, with the emphasize on white-label customizations and or tailored packages with integrated specific file viewers or editors. Depending on your needs, we can develop for you custom app extensions such file editors, viewers and perspectives.
On-prem TagSpaces Enterprise
The following diagram shows possible ways for deployment of TagSpaces Enterprise in your company.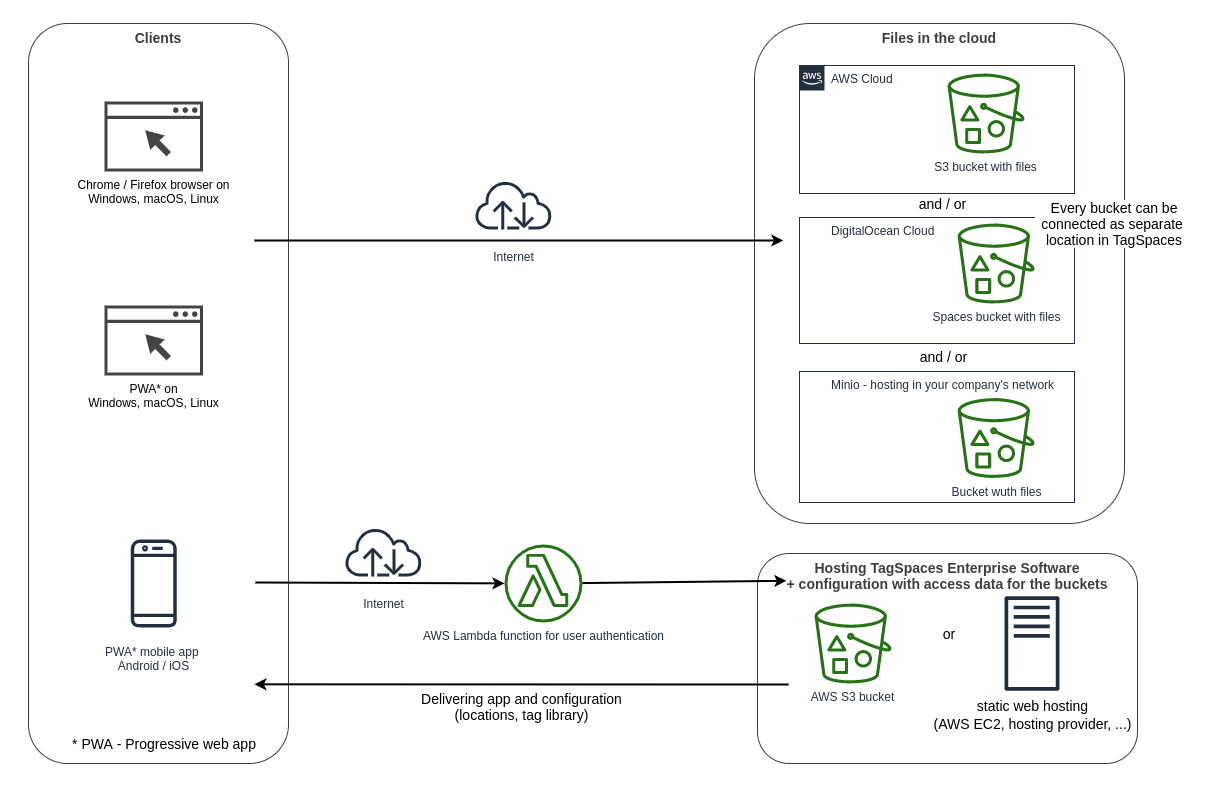 TagSpaces as front-end for AWS S3 buckets
The web version of TagSpaces PRO can be used as a web front-end for one or many AWS S3 compatible buckets. With the help of TagSpaces you can create a kind of custom "Dropbox" or "Evernote" service, where you have the full control over files stored in the buckets. Beside AWS S3 as a primary supported object storage, we can support DigitalOcean's Spaces or Minio based object stores. By utilizing Minio object storage, you are able to achieve a fully private cloud storage, entirely hosted in your company.
The following diagram, shows how one of our enterprise customers is utilizing TagSpaces Enterprise in combination with AWS S3 object storage.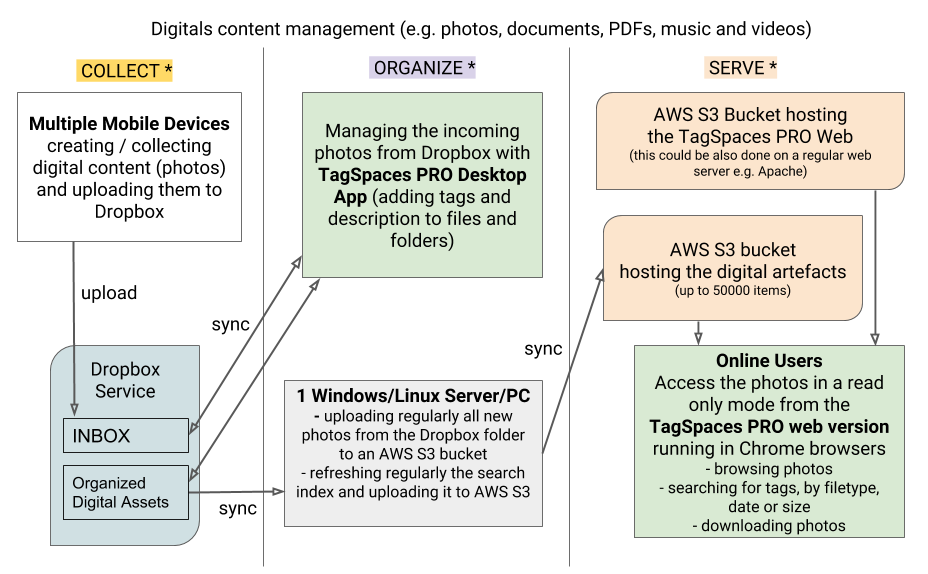 For detailed instructions on how to connect an AWS S3 location to TagSpaces, please read this tutorial from the documentation.
PWA App
The web version of TagSpaces Enterprise has support for PWA apps. Which enables you to install it as such on iOS and Android Phones and Tablets. Of course all other desktop operating systems such as Windows, macOS and Linux are also supported. Using the the PWA app have instant access to your S3 compatible buckets from almost every platform and device.
See it in action in bellow:
Bellow you can try a read-only demo of TagSpaces. You can also open the demo in separate tab, so you can experience it in full width
This demo is based on
TagSpaces Enterprise
edition. Data and application are hosted on AWS using the services CloudFront and S3
Custom White-label Packages
We can offer you custom look and feel of TagSpaces according to your company design guidelines. These changes can include but are not limited to a custom logo and a custom color theme. The following screenshot is only a example of what can be achieved.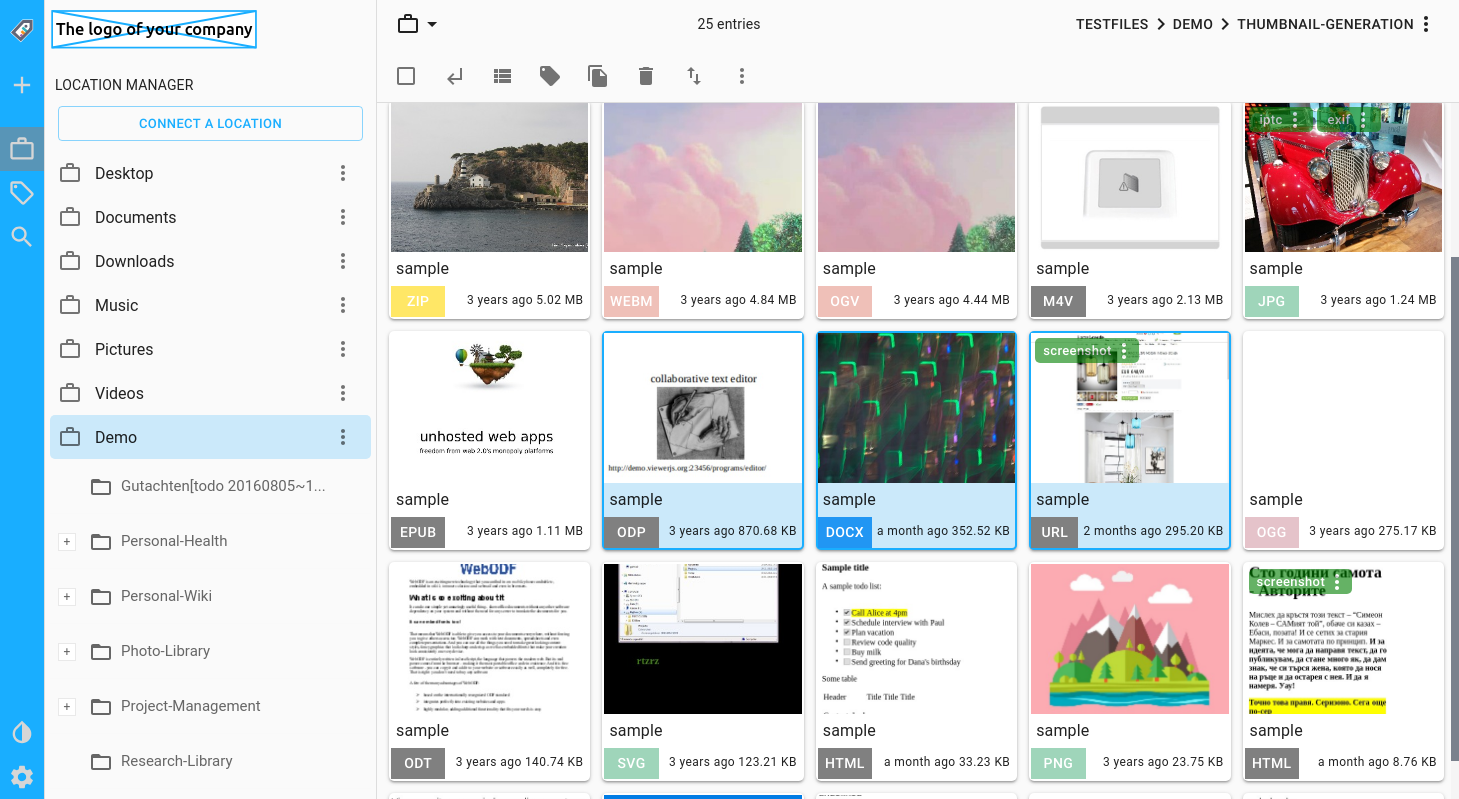 Custom File Viewer Development
We can develop for your company custom extension for viewing or editing of file types which are not supported in TagSpaces by default. These can be for example viewers for 3D-models or for DICOM medical image format.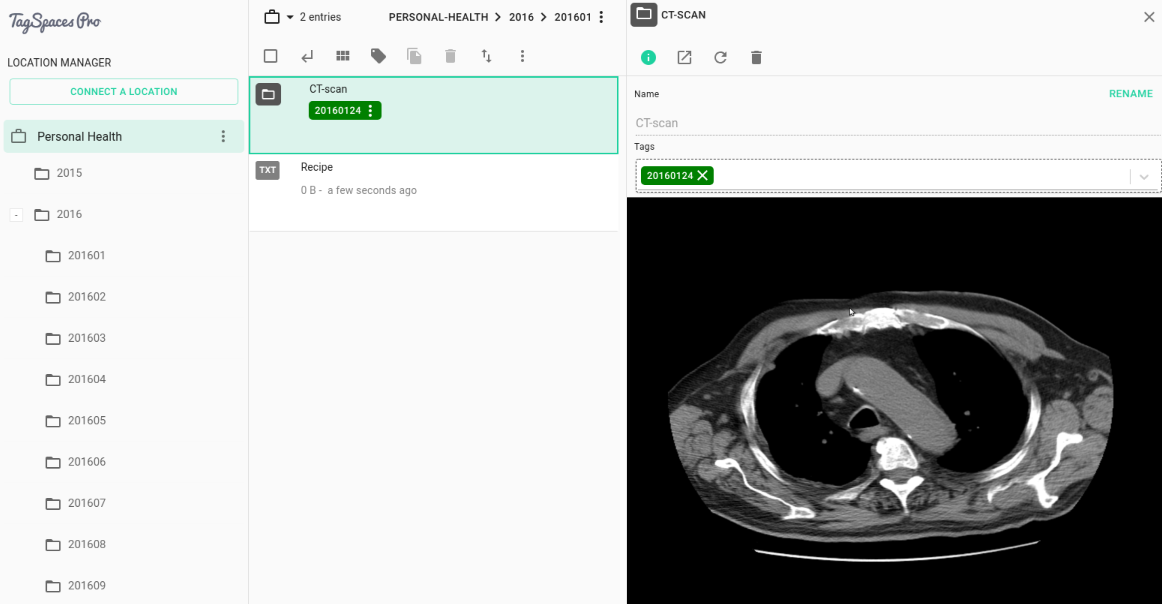 Custom Perspective Development
We are able to develop custom views on your files and folders structures. We are calling these views perspectives. On the following slides you can see some of our ideas for custom TagSpaces perspectives.
Custom configuration
Distributing TagSpaces to many users in one organization may require a common configuration of the software. Here you will find a list with some of the supported options, which can be added to the external configuration file:
List of custom locations
Custom tag library, containing specific tag groups with tags
A way to predefine which will be the default panel in left part the application (tag library, search, locations or none)
Predefining the default user interface theme
Specify to a custom logo
The configuration file can be distributed with the desktop application or hosted on a web server.
Priority Technical Support
For enterprise customers we are offering priority technical support, which can include a ticketing system for tracking the customer issues and requests. We can offer technical support by phone and email.
Contact us
Please contact us if want to purchase TagSpaces Enterprise or you have some other ideas, requests or requirements for Enterprise edition. You can reach us per email or by phone +49 89 41156911.