This week we released version 1.8.1 of TagSpaces, featuring the following improvements and bugfixes:
We added Chinese as a new language for TagSpaces, here many thanks thanks to AngelinDark. We added also Bulgarian language, which is currently 50% translated.
Technology Preview of a WebDAV Edition was included in this release, allowing you to host your own TagSpaces on top of a WebDAV server such as ownCloud.
marked integrated as a new markdown rendering library in the viewerMD, supporting github flavored markdown and tables.
We enhanced TagSpaces to be able to open files from the command lines, allowing you to associate certain file types to be opened with the application by default
In the installation packages for OS X, Ubuntu and Android we associate markdown and mhtml files with TagSpaces.
A download functionality was added, allowing you to save a file locally if you are using the webdav version or just to save a file under another name/location on your device.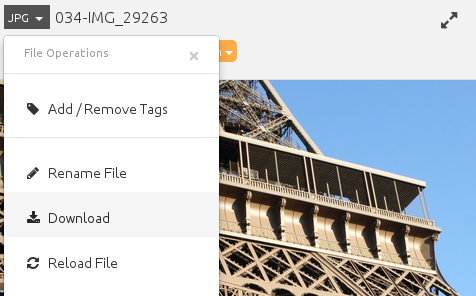 adding top menu for the native applications, allowing you to access quickly basic functionalities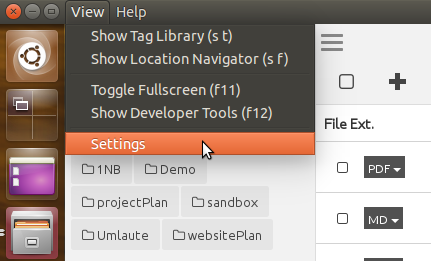 now it is possible to add keybinding to a tag, which makes file tagging very easy. After adding a key shortcut to a tag, a small keyboard icon will be visible in front of the tag in tag group, reminding you of the shortcut existence (see the ratings screenshot).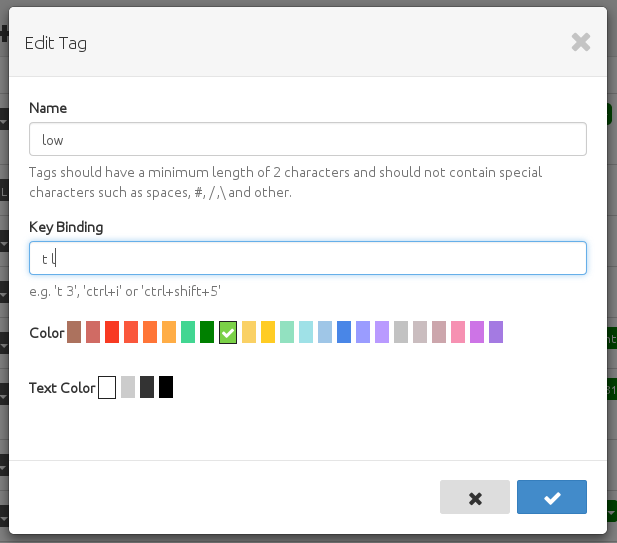 adding a new tag group with rating tags e.g. 1star. Using the previously described new feature you can now rate for example pictures with the keybindings from t 1 to t 5

The tags of the current file are now listed in it properties dialog.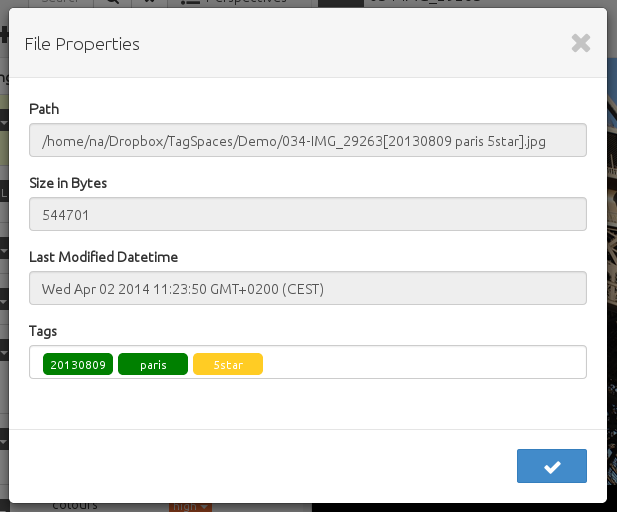 New keybindings for showing tag libraries (s t) and directory navigator (s f) added, enabling you a quick switch between this two panels.
Implementing clean tags functionality, allowing you to remove all the currently assigned tags from the selected files, as requested in #65. This feature could be useful if you want to send somebody a file per email, but you don't want to send your tags as well.