As you already may know we at TagSpaces love files. Files are the artifacts of our digital life and such we working hard to provide a consistent and convenient interface to them across operating systems like Windows, OS X or Android. Our goal is to enable you to organize and order these artifacts in a way, which is meanwhile common in many cloud-based platforms, but entirely or partially missing in the default file manager build in the modern operating systems. We are convinced that not all your files have to be uploaded or shared with these cloud services and this is driving us to further develop the application. Meanwhile the effort for keeping the project running with the desired quality on all platforms has grown tremendously and we started to look for some sources of income in order to further develop it. So some months ago we decided to offer a premium version of TagSpaces, containing some advanced features. And today we think that TagSpaces Pro is ready to be released to the public.
TagSpaces Pro is an application based of TagSpaces which includes all of it's cool features. And on top of that we implemented some new features, which we think that some of the existing TagSpaces users may need. Here is a list of them:
Here is a short video showing the thumbnail generation in action.
TagSpaces is a project started by developers, and we remain committed to open source. TagSpaces will always stay open source, in our previous release we have even extracted all the TagSpaces extensions in separate repositories and published them under the more permissive MIT license, expecting to enable our advanced users to more easily fork them and build new exciting plugins for the application.
As we already mentioned TagSpaces Pro is based on the community project and we will continue to further develop it, by adding new features and fixing issues. And of course we are excited to continue supporting our developer community.
In version 2.3 we have added some new features to product, while the main challenge was the refactoring of the existing search functionality. So the applications features now a new advanced search user interface, with the long term goal to became a kind of desktop search engine.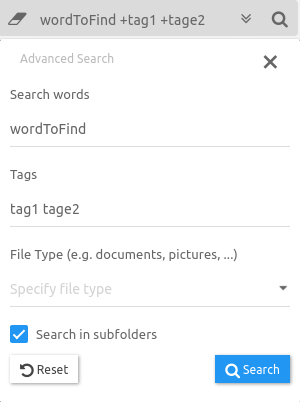 We have added an options in the settings to limit the maximal search results or files to be shown in the current perspective. With this version of TagSpaces we changed the default behavior of the search and now the applications searches automatically in the subfolder of the current folder recursively. This of course may lead on big directory tree to performances issues. That's why we have integrated a switch in the options where you can disable this functionality.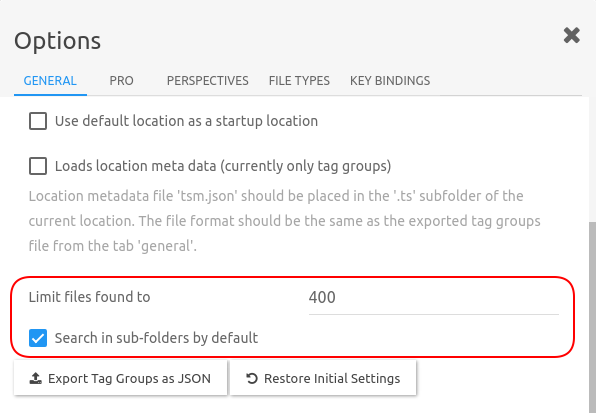 Other convenient feature we implemented is the so called "go to previous folder" button in the folder navigation area. Which for example can be used to leave your current location and browse files in parent folder of a given location.
Looking forward​
The future for TagSpaces is bright, with an exciting roadmap of big features coming in the next months. I'd like to thank you again for your great support and energy the past several months.