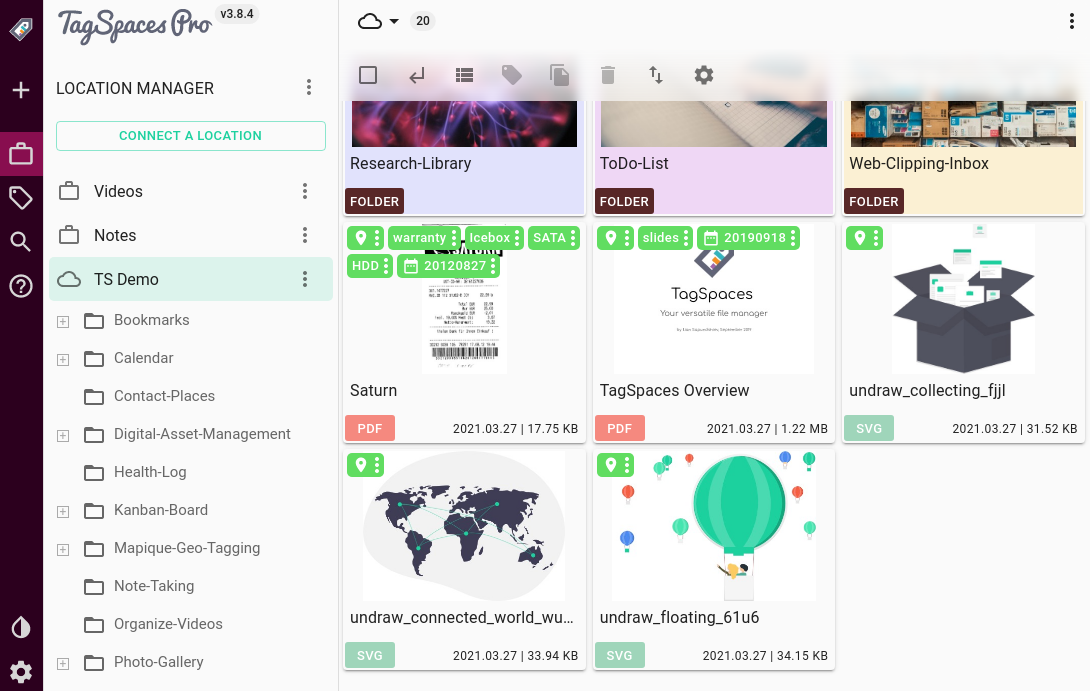 TagSpaces has seen some new releases in the past months, bringing enhancements and upgrades, and many new features. With our latest release, v3.9 becoming available, it's time we went through some of what came before in versions v3.7 and v3.8, respectively.
User Interface and UX features and improvements​
Version 3.7 has seen some improvements in the UI/UX front. The already extensive and advanced tagging functionality, a key feature of the software, was improved in some small ways. Similarly to other tag groups, the now read-only SmartTag group can now be collapsed in the sidebar. Since TagSpaces can extract macOS tags, an explanation is now provided for Mac users on how the tag extraction works in TagSpaces.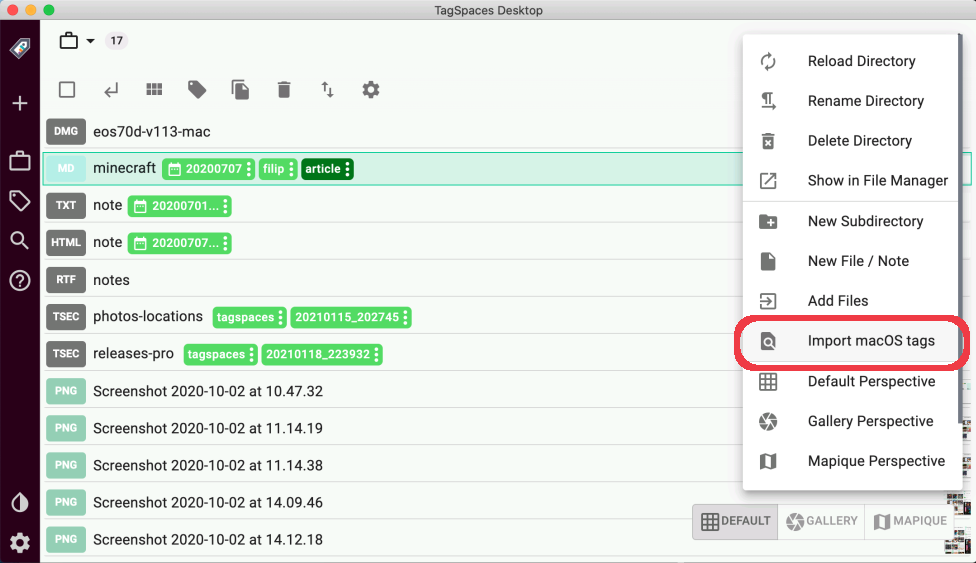 When a file or image has a geo tag associated with it, there is now a map displayed in the file properties, showing the exact location the geotag points to.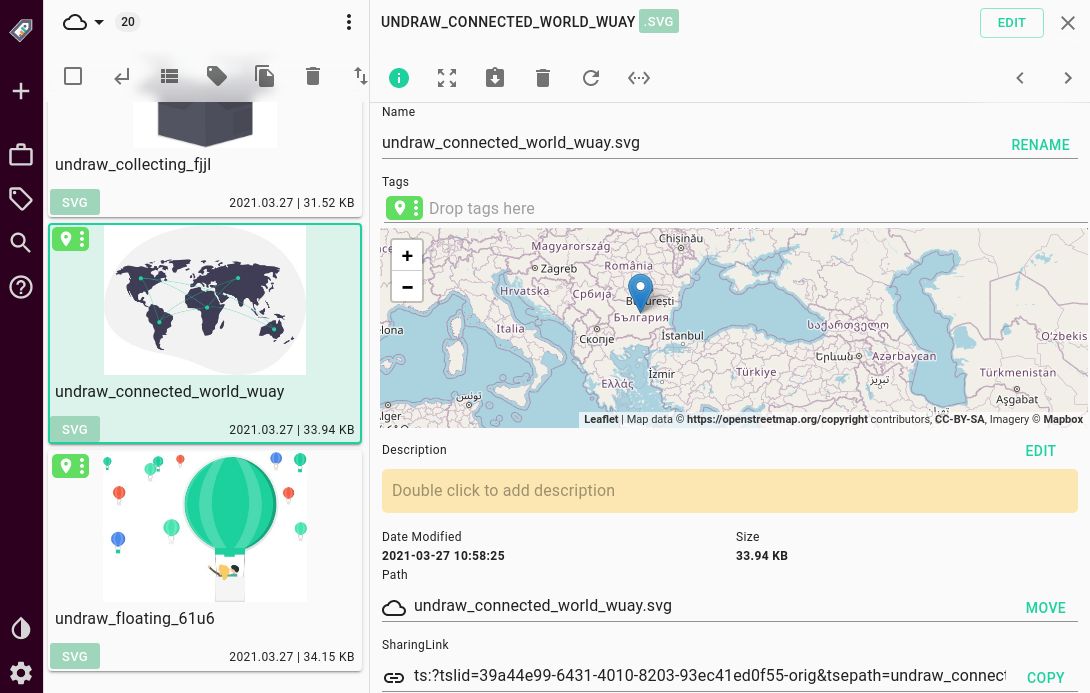 Geo-tags display most prominently in the Mapique perspective, which now redraws the map displayed after closing a file or a directory in the PRO version, to better reflect possible changes. Also in the PRO version, the Mapique perspective, along with the gallery perspective now has a button to navigate up to the parent directory more easily.
Navigation and usability have seen some improvements as well. The Grid perspective now has pagination enabled, allowing the user to set the maximum number of files shown on each page, while macOS users will notice the re-addition of the tray menu.
The most exciting new feature, the KanBan perspective is still heavily experimental at this point but shows a lot of promise for a new style of file and folder organization.
Version 3.8 had even more usability and user interface improvements to offer. Navigation was further improved with the introduction of the still experimental "history navigation". It can be found in the file menu for now (which is now hidden by default on Windows and Linux but can be shown by pressing the Alt key), selecting View->Go Back or Go Forward, or by pressing Alt+Left arrow (for back) and Alt+Right arrow (for forward). The history navigation offers a navigation experience similar to and known from web browsers, where you can navigate between the last accessed folders and files in a non-linear fashion.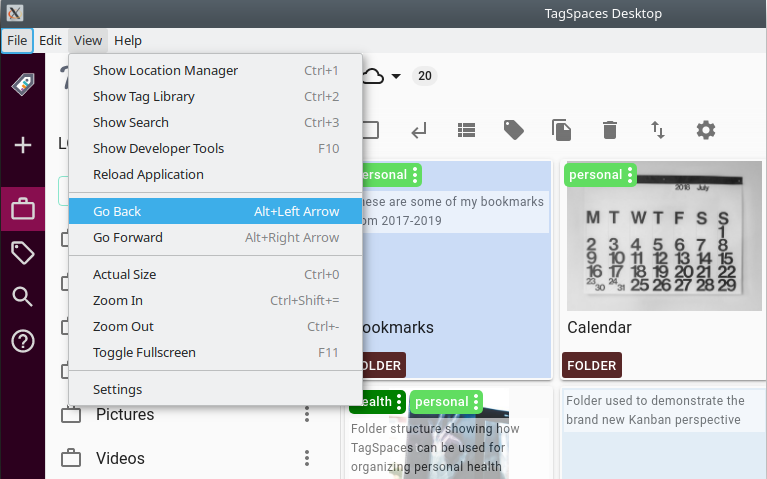 In Mobile Mode (Settings->General->Enable mobile mode) the help panel is now integrated into the side panel for a more unified look and feel. The Settings menu now also features a "Reload App" button, that will refresh TagSpaces and load everything, should you experience any problems or inconsistencies, and as a serious usability improvement, the UUID of connected locations is now both visible and editable from Settings.
As a small, but important visual improvement, tags in the default perspective are no longer translucent, making them more legible, while the perspective toolbar has gained some translucency for a better visual effect.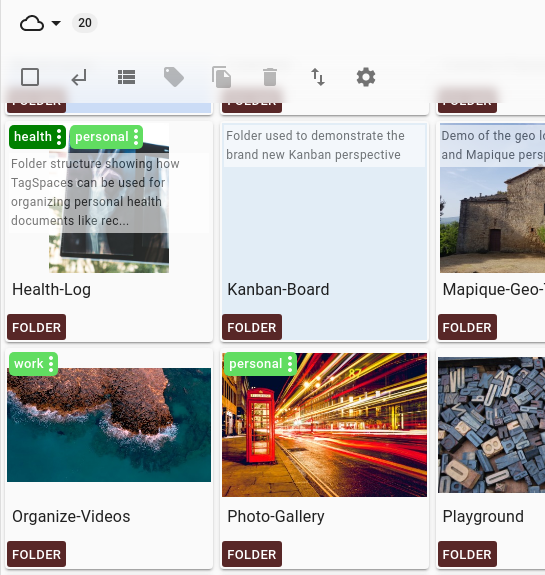 In the PRO version, you can now exit full-screen mode in the Gallery perspective on mobile devices, which is both an important visual and usability improvement.
Lastly, the tool-tip in the "About" dialogue now displays a lot more detailed version information, which can prove handy in troubleshooting and opening support tickets.
Under the hood​
Besides the most obvious visual and UX improvements, there have been plenty of changes under the hood that, while not immediately visible, can improve one's workflow considerably.
The biggest and most important change in version 3.7 concerns file and folder indexes. Indexing will no longer occur immediately upon opening a location, instead, it will start when the first search is performed on a given location. These indexes stay valid for 10 minutes, after which they get recreated when a new search is performed. This saves a lot of power and resources and makes everything work so much faster and allow for smaller index sizes. Besides being more efficient, indexing also got more transparent, as the total amount of indexed files is now displayed after every time the index is (re)built.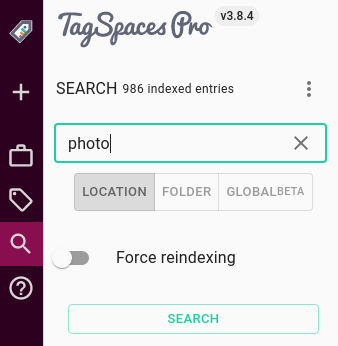 As another efficiency improvement, the PDF thumb generation was moved into the main app process, so there is no longer a need for a hidden worker window, when a folder contains PDFs, while the generation of thumbnails for zip files was disabled, as this could lead to performance issues.
More audio filetypes are now supported with the addition of ACC which, along with FLAC, is now included in the search settings too, which has also become more table, as it would no longer crash when searching on no location.
The PRO version had even more improvements. Editing of file and folder descriptions is now only a double click away, while also supporting embedded images and opening external links. The PRO version can now have a default perspective on a per-folder basis, which you can set in the directory properties, and the date dialogue was changed to use a YYY-MM-DD format.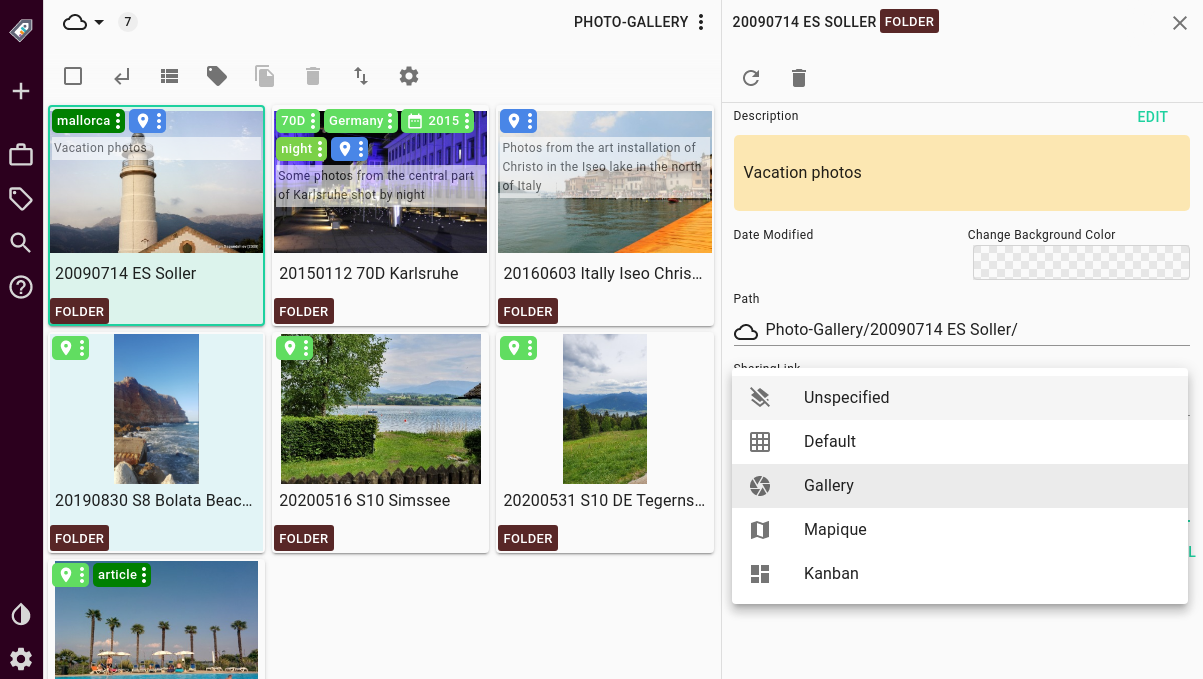 The Armenian, Japanese, Korean German, Indonesian Italian and Chinese translations were updated, and now the default electron spell-checker app is enabled for the desktop version
Command-line users can now open locations as a parameter, read-only locations no longer display a context menu, folder renaming from the three-dot menu now works as expected, and the deletion dialogue will show the correct filename.
The PRO version had some major improvements regarding external config: Smart tags can now be deactivated, while the theme colours and the welcome panel can be customized from the external config, along with the sidebar colour and advanced search. More can found in the documentation page dedicated to the extconfig.js with the which the app can be configured.
Remote storage systems​
While TagSpaces is a no-backend, offline first application at heart, the possibility to add remote storages on your own terms, extends its functionality and extends its usability by a fair bit. Remote storages have had a lot of improvements in the last three releases too:
Version 3.7 fixed the ability on switching directories locally and on S3, and also saw the addition of "Close" and "Clear uploads" buttons in the upload status dialogue.
In the PRO version, the file previews are now optimized to only load the first 10k bytes of any given file, and some upload issues were also fixed for both desktop and web versions when using an S3 compatible object storages.
In version 3.8 the "open link" functionality was introduced for handling external and internal links, which is most interesting for remote locations, with the one caveat that the user sharing and receiving the link should have the same location ID for it to work. Share links are displayed in the file and folder properties of each item.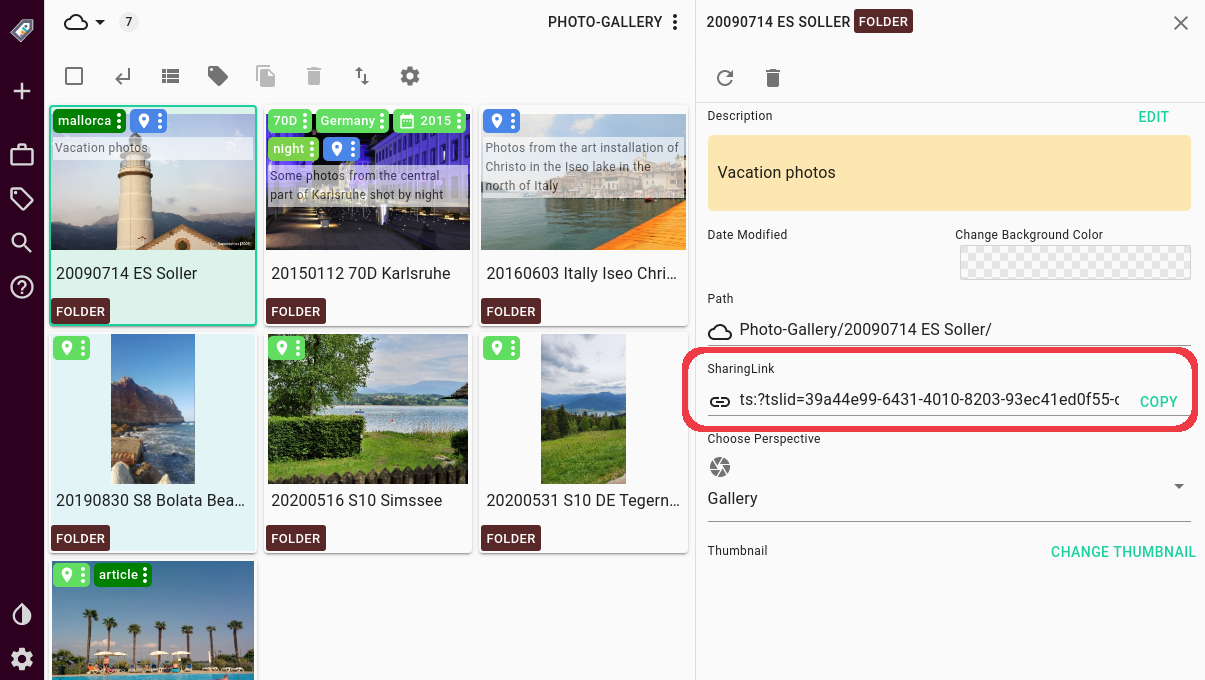 Showing paths for cloud locations was improved and read-only external locations introduced, while the issue of selecting two locations with the same or no path was fixed.
In the PRO version, users can now import and export location configurations, making it easier to add shared locations across users or devices.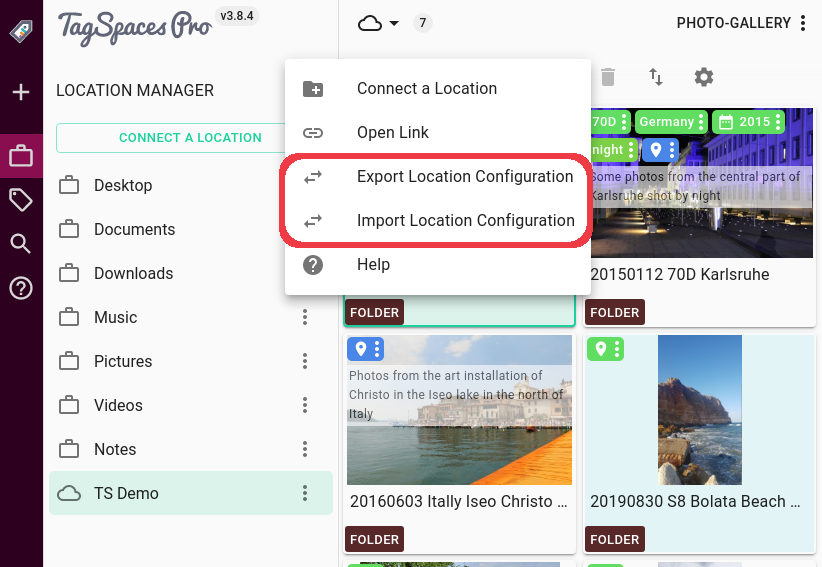 More to come​
The list of changes does not end here. With 3.9.5 available, there is still more on offer. Those we will discuss in the next article.